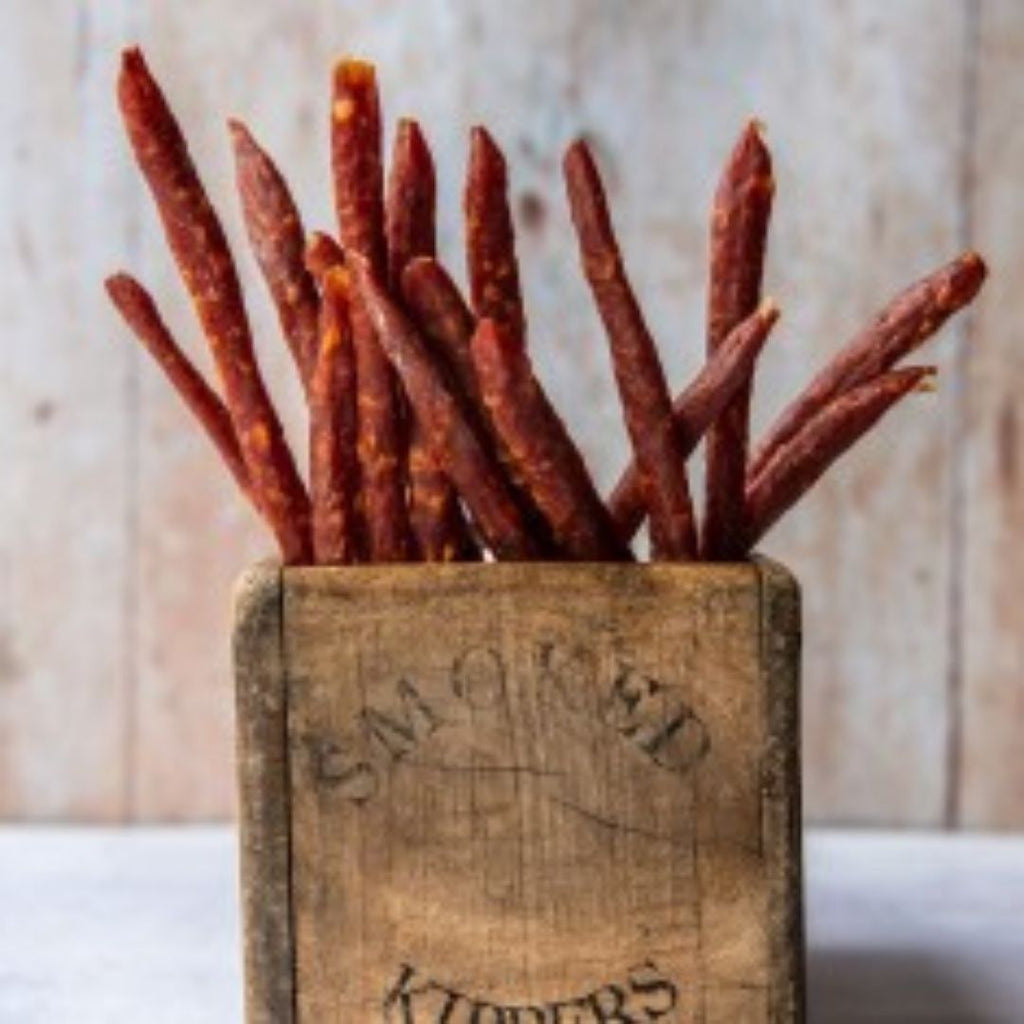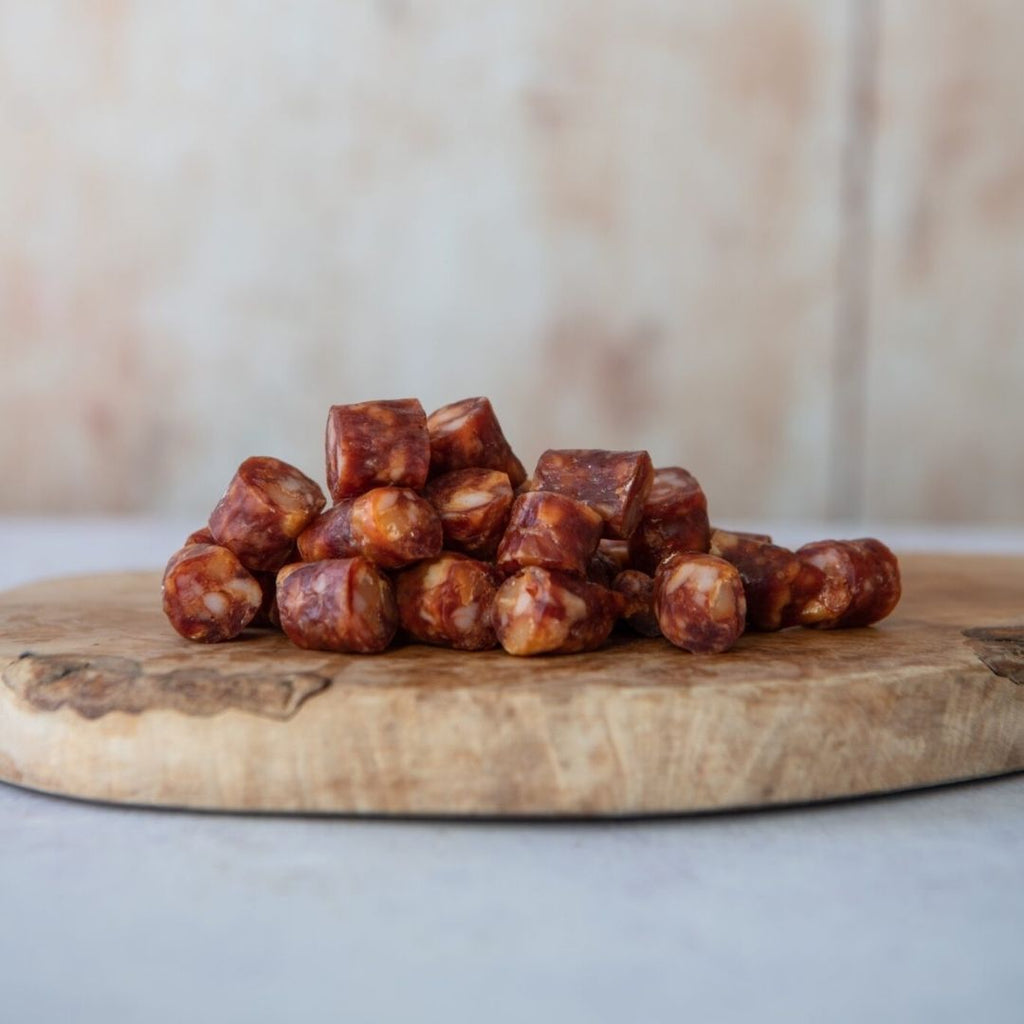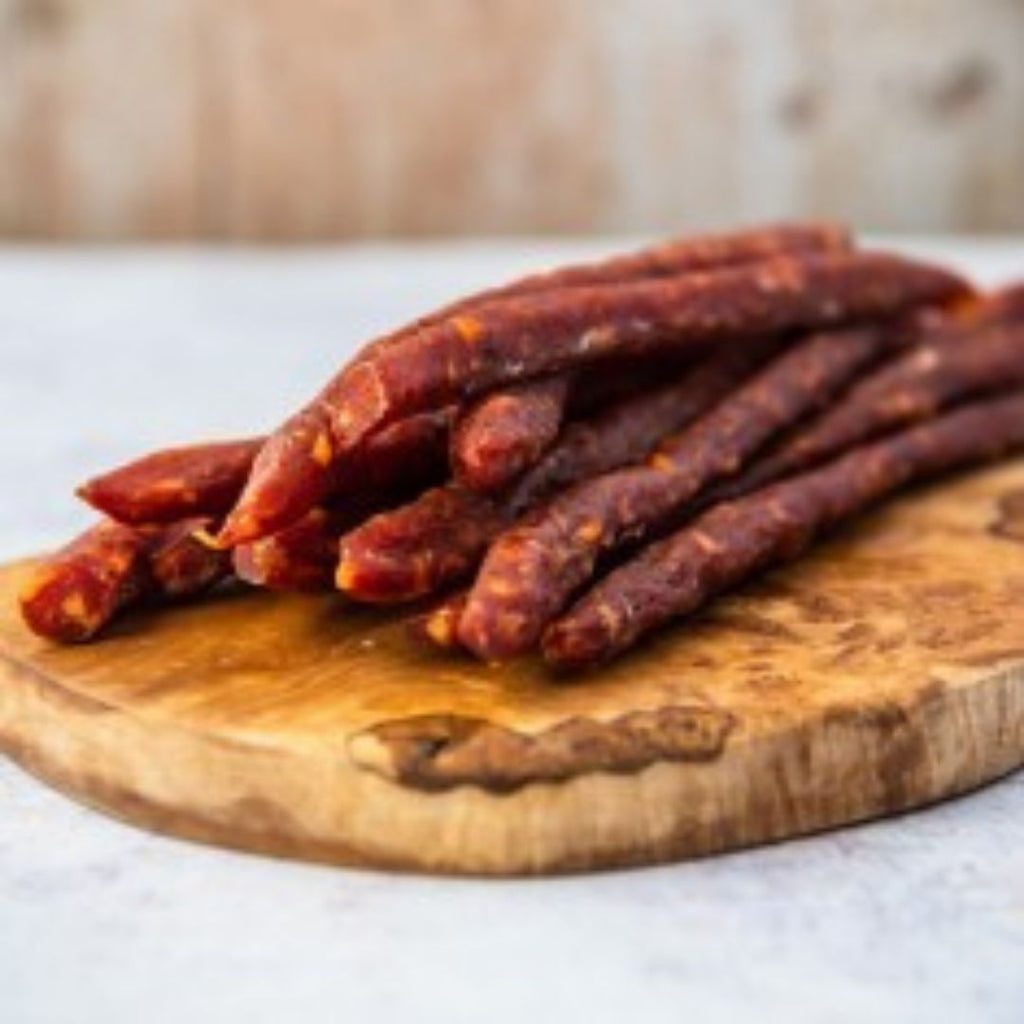 Spicy cider chorizo pokers with local mature Cheddar
Description
Our pork hero friends at Somerset Charcuterie use cheddar produced on the same piggin' farm and cider from less than four miles away from each other, making this a true Somerset experience. The flavours perfectly complement each other and in the single portion sizes make for a great picnic, lunch-box, or (our fave) a bar snack.

These bad boys are available in the following pack sizes:
Pack of 20 x 40g pokers
30 x 75g pokers in a piggin' glass Kilner jar
Additional Information
Chorizo sticks with cheddar cheese & cider – fermented and air-dried pork sausage
Uses; Best eaten in the garden with a glass of cider in the sunshine, although delicious with a glass of crisp white wine.
Care; When we sell our product it will be dried to perfection, we recommend eating them straight away, but you can keep them in an air-tight container or wrap them and store them in the fridge for up to 4 weeks. In the fridge, condensation may start to soften the natural skin, don't worry it won't affect the taste.
Ingredients: Pork (77%), Mature Cheddar CHEESE (11.6%), Cider (4.2%), Skimmed MILK Powder, Salt, Garlic, Paprika, Dried Chilli, Water, Dextrose, Cayenne Pepper, Sodium Nitrite, Sodium Nitrate. For allergens see ingredients in UPPERCASE. Made with 188g pork per 100g of chorizo
For best quality results keep in cool or ambient temperatures and airtight for up to 30 days from opening.
Nutritional Information – typical values per 100g
Energy 439kcal / 1822kj
Fat 32.9g of which saturates 11.4g
Carbohydrates 2.8g of which sugars 2.7g
Protein 31.8g
Salt 4.37g
Contains LACTOSE
PIGGIN' IMPORTANT: For information about allergens, ingredients, and nutritional information in our porky wares, please refer to our ingredients page here.
Delivery & Service
UK mainland postage:

£3.99 standard delivery
Free on all orders over £40

The Snaffling Pig's less fun but very organised cousin, The Logistics Pig, dispatches all our items by courier for delivery usually within 1-2 working days (although it can take an extra day or two during peak times of the year). However, rather than keep lots of stock, we cook fresh every day to keep up with you snafflers so delivery can take up to 5 working days.

Your order will be shipped in as few parcels as possible to keep your piggin' shipping costs down, and to reduce the impact on the environment. So if you order multiple bundles and other products in one order, it will most likely come in one parcel. If you require separate parcels for multiple bundles you will need to make another separate order.

We would also advise that you get familiar with our firm but fair policy on returns and refunds.

More than anything, we want to be piggin' happy with your purchase. If you need anything contact us.

For our general T&Cs click here.
Storage
PORKY SNACKS: If kept air tight, our crackling should be suitably awesome up until it's best before date, which should typically be around 16 weeks from purchase, sometimes more, sometimes less.

If you dive in regularly, we'd recommend eating it up within 4 weeks - but this shouldn't be too tricky, because well, you're already diving in regularly.

As with any food product, store in a cool, dry place away from bright light and vegetarians (if it's meaty) in order to keep the swines at their best.

BOOZE: Both our beer & cider is best served coooold.

If you have any product related questions, please contact us.
FAQs
Since day one we've made a point of being as open and honest as possible with our customers- calling a spade, a piggin' spade, and all that. That's why we've created this page of FAQ delight in order to give you as much info about our porky venture as you need.

https://www.snafflingpig.co.uk/pages/faqs
Reviews