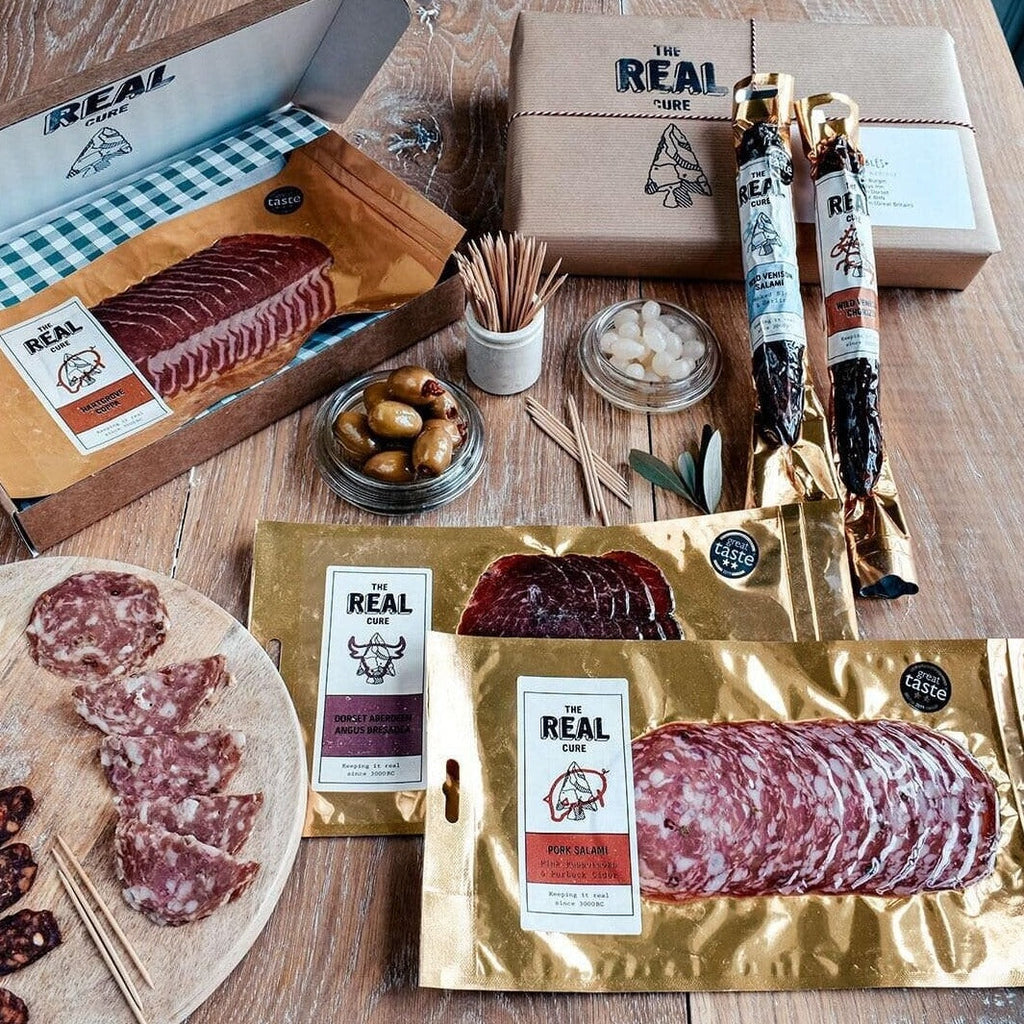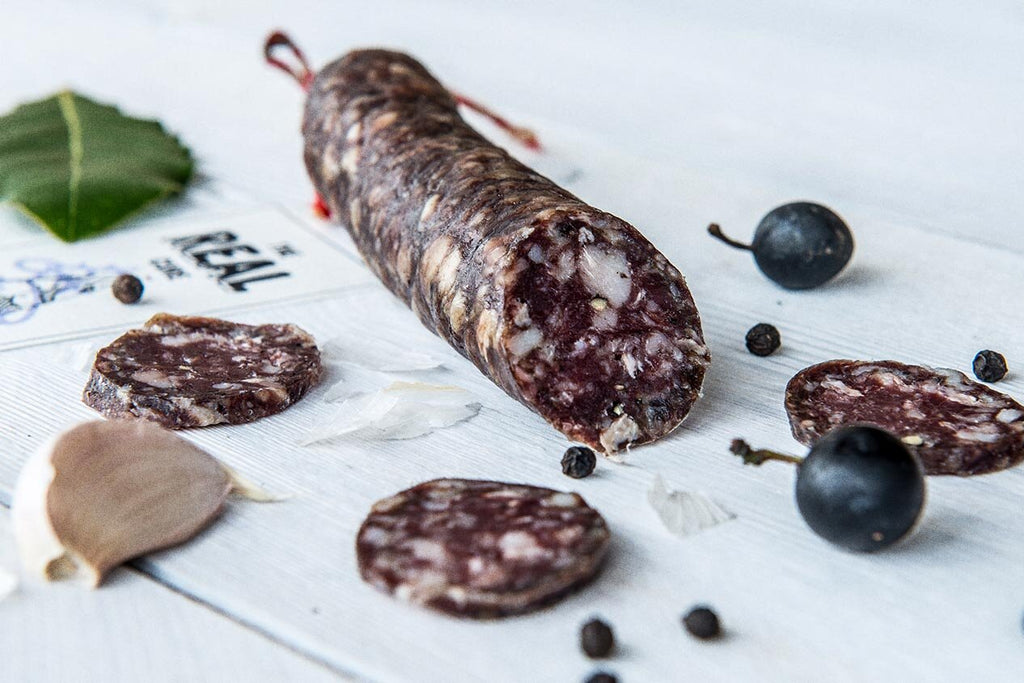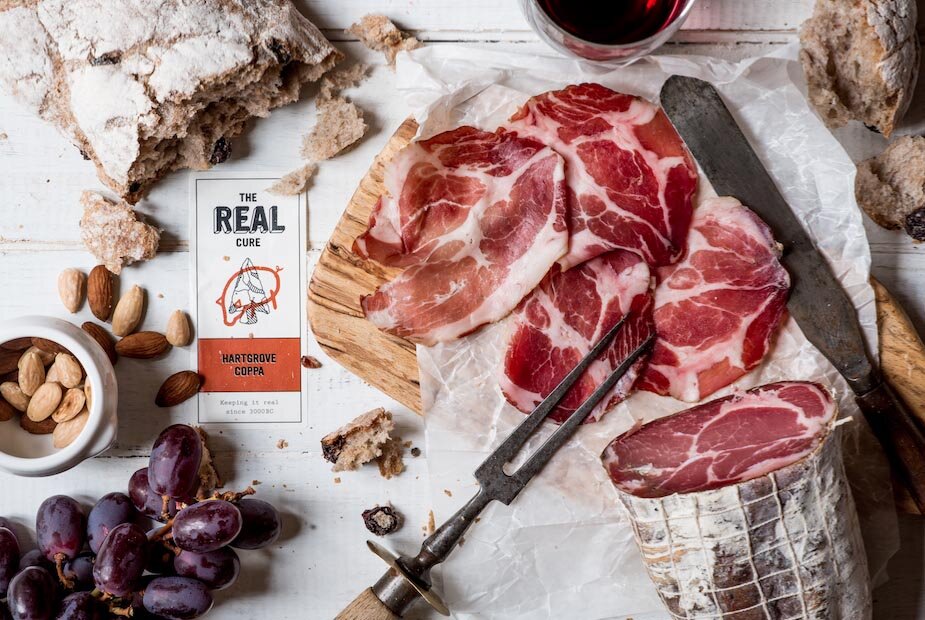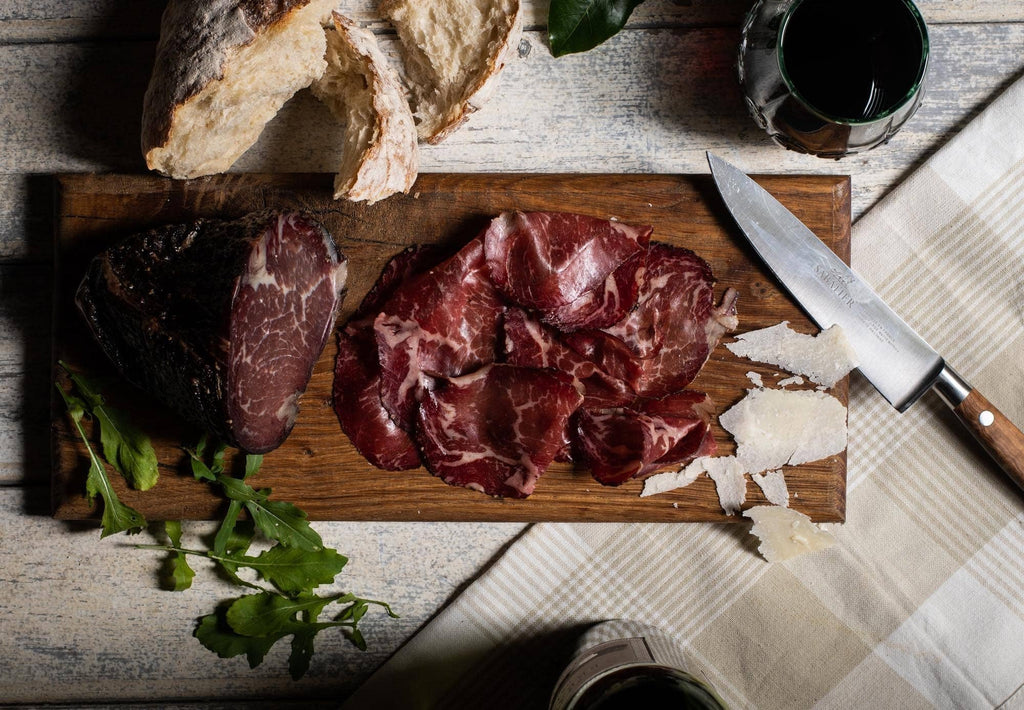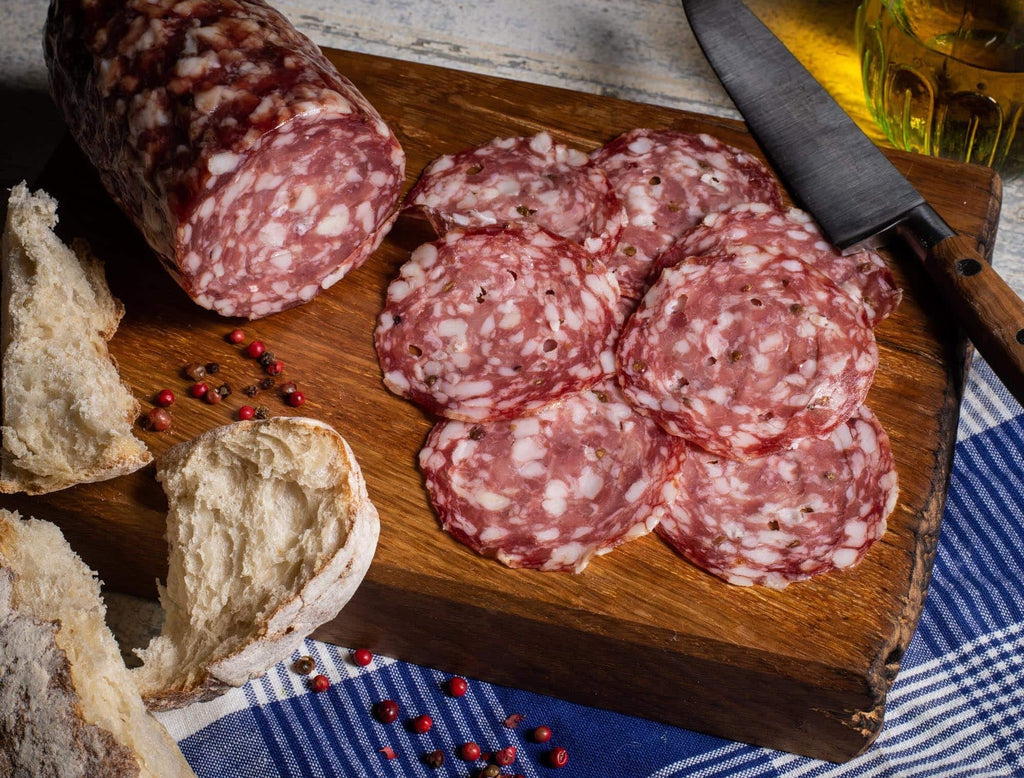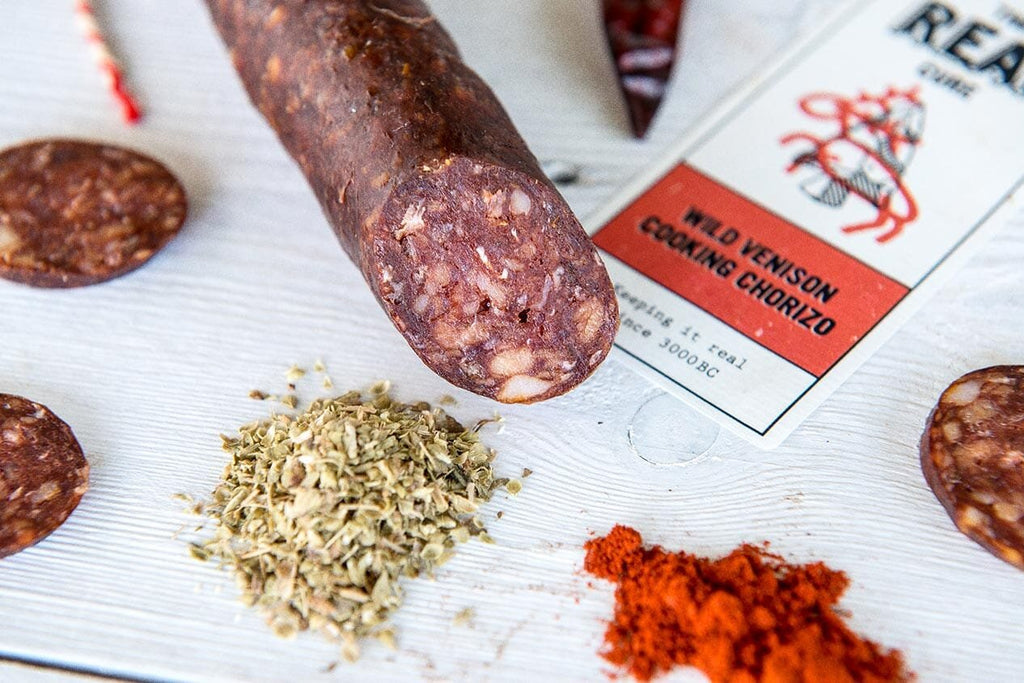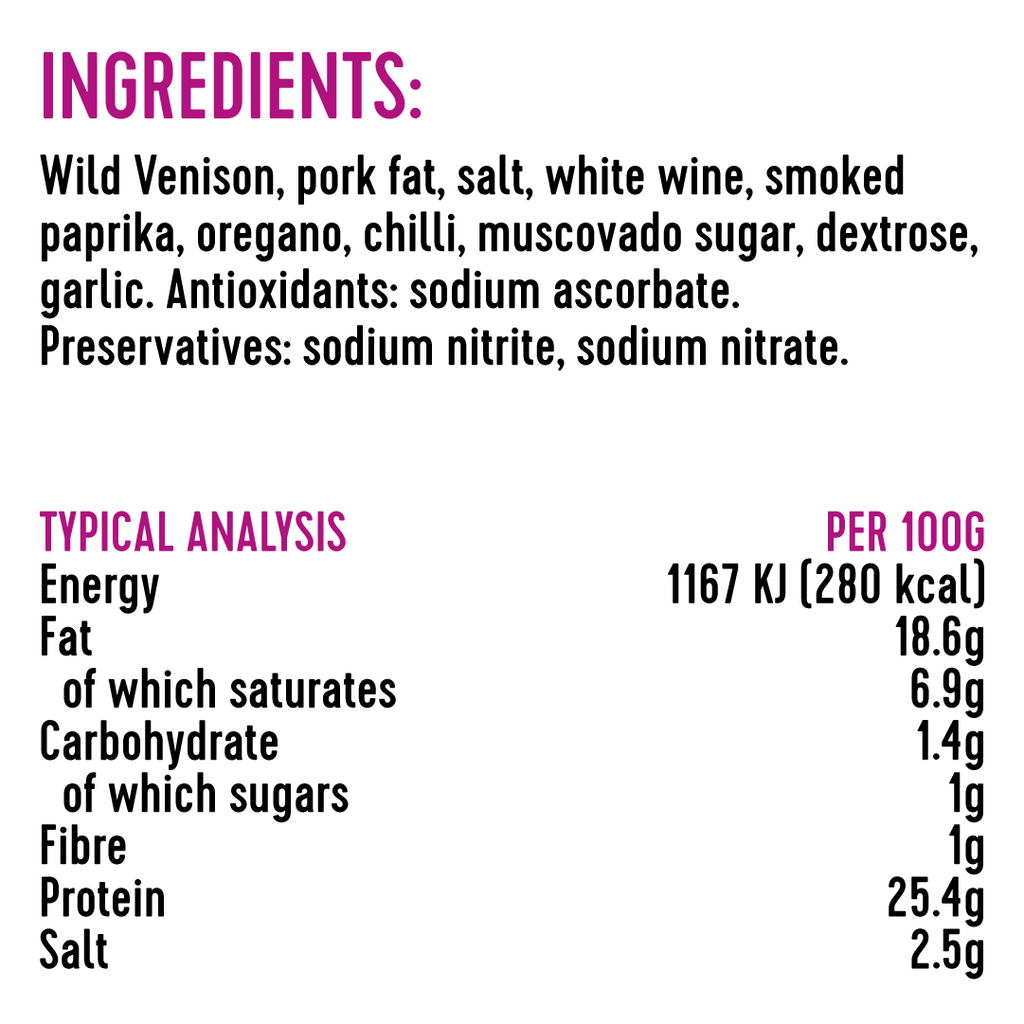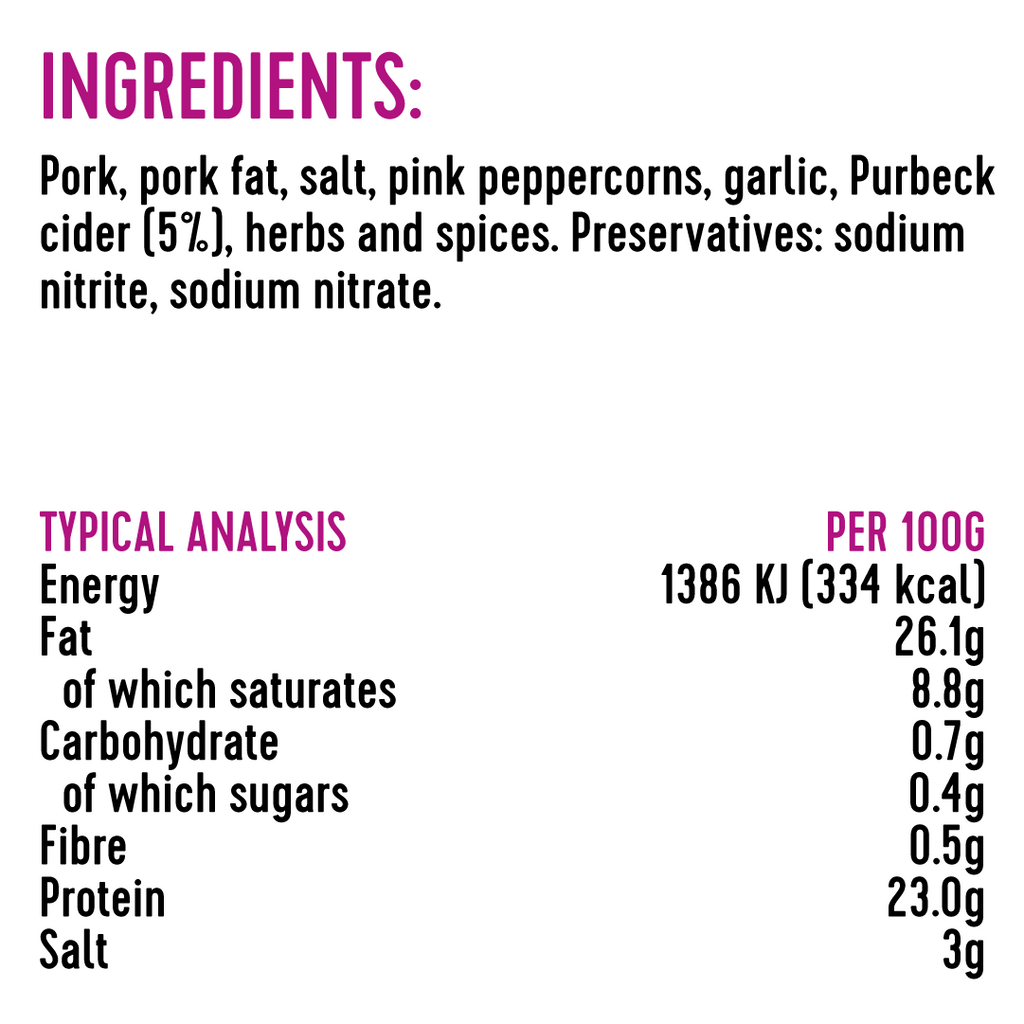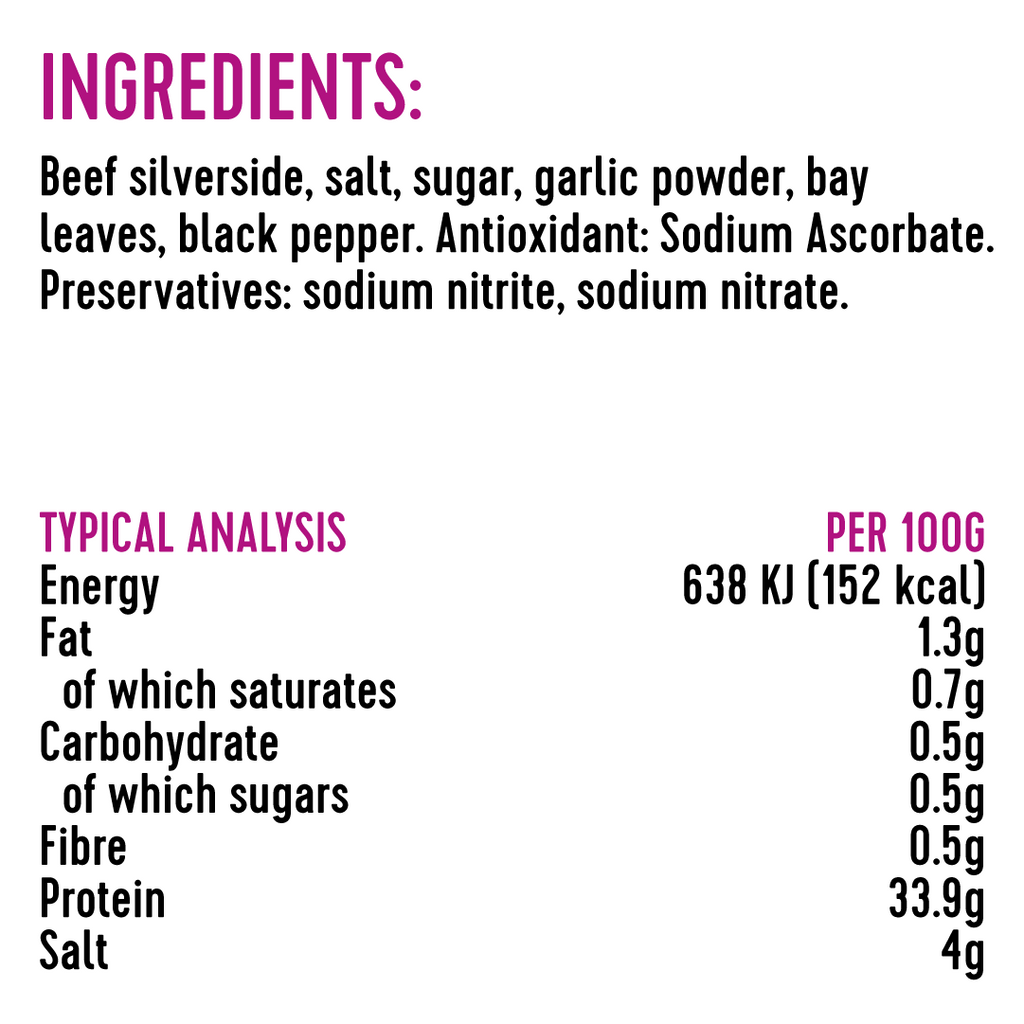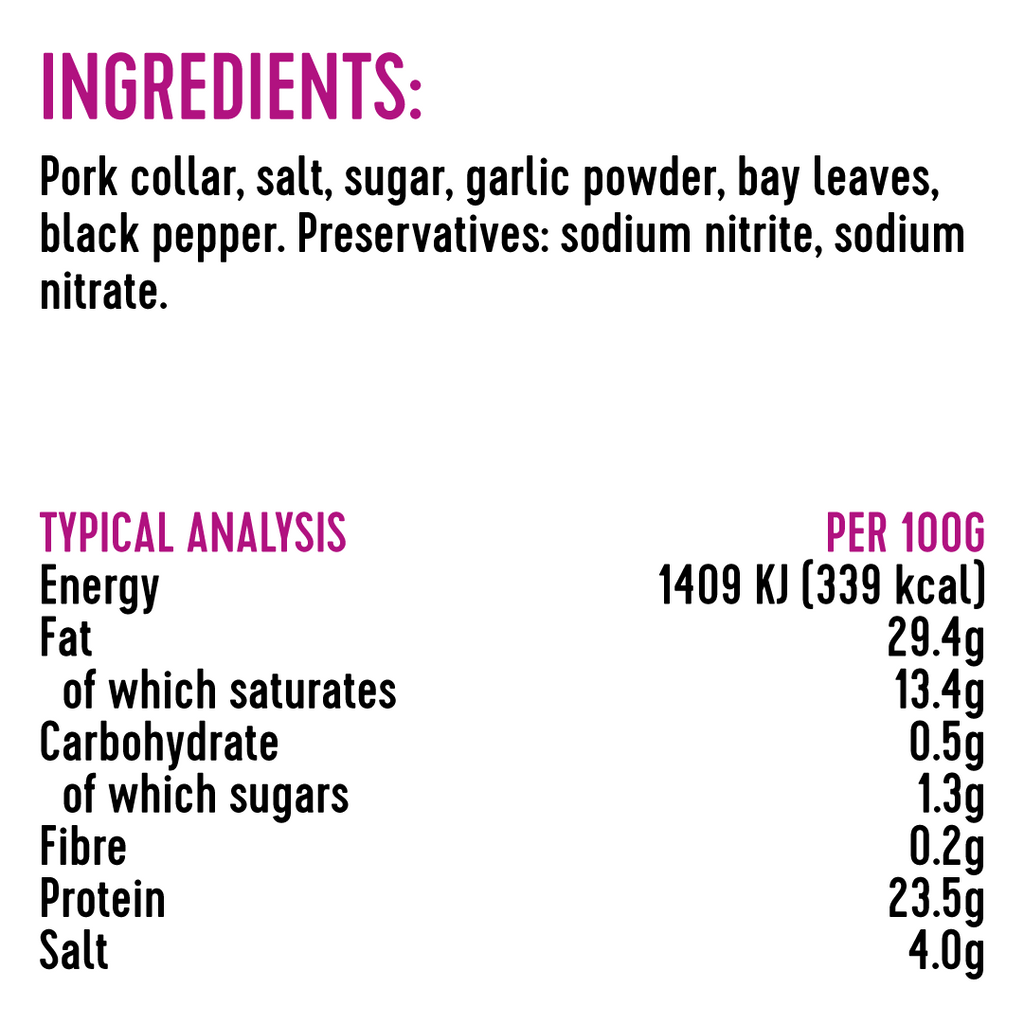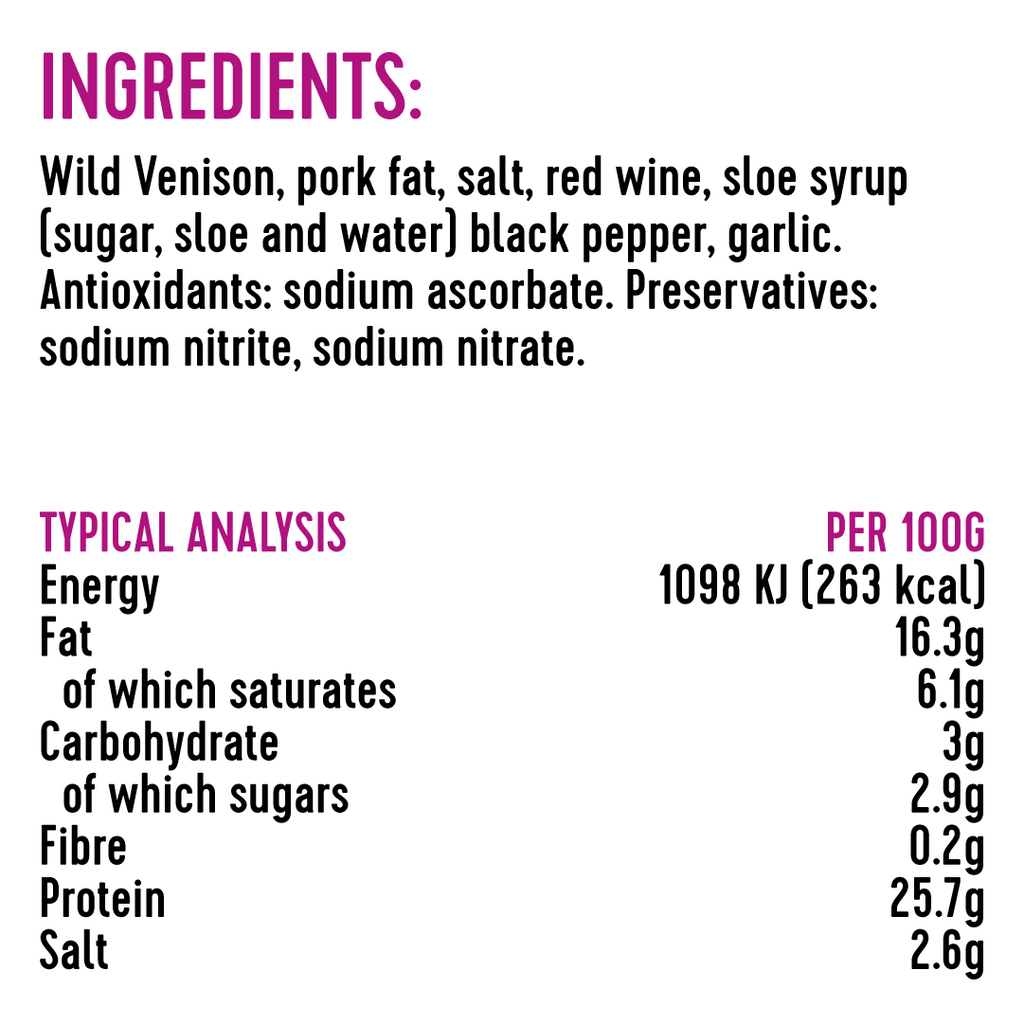 3-month subscription: Dorset Letterbox Charcuterie Hamper
Charcuterie
Description
Delivered every month for 3 months.
This letterbox charcuterie hamper includes a selection of our most popular cured meats. All made from wild British deer, free-range pork and locally sourced ingredients.

All items are gluten-free.
Our charcuterie Gift Boxes and Hampers currently have a minimum of two months shelf life and do not need to be refrigerated until opened.
The letterbox hamper includes the following cured meats*:
Smoked Sloe and Garlic Wild Venison Salami

Wild Venison Chorizo

Pink Peppercorn & Purbeck Cider Salami

Hartgrove Coppa

Dorset Bresaola
WHAT'S IN THE BOX
The letterbox hamper contains our most popular selection of cured meats, including 5 award winners:
Smoked Sloe and Garlic Wild Venison Salami (110g) - Made using wild British venison, sloe berries, fresh garlic and a good glug of red wine. Smoked over oak chips for 3 days. Ideal on a charcuterie board or for snacking with a pint.
Wild Venison Chorizo (55g) - Locally sourced wild venison. The warmth from the chillies combines beautifully with the smoked paprika and fresh garlic – seriously addictive! Game-changing on pizza, to enhance recipes and stews, or simply eat as is.
Pink Peppercorn & Purbeck Cider Salami (55g) - 3 Star Great Taste Award winner - made with free-range pork, the pink peppercorns add a beautiful aromatic hit with a sweetness from the Purbeck Cider just at the end. This pork salami is a modern-day classic.
Dorset Bresaola (55g) - 2 Star Great Taste Award winner - A delicate cure of crushed bay leaves, red wine and rosemary. The long ageing process combined with the highest quality grass-fed beef makes this a very special product. Perfect for any charcuterie board or serve with rocket and parmesan shavings for the ideal summer lunch.  
Hartgrove Coppa (55g)- 3 Star Great Taste Award winner - Free-range pork neck fillet, dry-cured in a gentle mix of herbs and spices, then air-dried for 3 months. A fantastic addition to a British charcuterie sharing board. Try wrapping around asparagus spears or pickles. Use in place of parma ham.
* Contents may vary depending on availability. If any of the items are unavailable we will replace with a similar item.
*Hamper will be shipped directly from THE REAL CURE • BRITISH CHARCUTERIE & CURED MEATS
PIGGIN' IMPORTANT: For information about allergens, ingredients, and nutritional information in our porky wares, please refer to our ingredients page here.
Delivery & Service
UK mainland postage:

£3.99 standard delivery
Free on all orders over £40

The Snaffling Pig's less fun but very organised cousin, The Logistics Pig, dispatches all our items by courier for delivery usually within 1-2 working days (although it can take an extra day or two during peak times of the year). However, rather than keep lots of stock, we cook fresh every day to keep up with you snafflers so delivery can take up to 5 working days.

Your order will be shipped in as few parcels as possible to keep your piggin' shipping costs down, and to reduce the impact on the environment. So if you order multiple bundles and other products in one order, it will most likely come in one parcel. If you require separate parcels for multiple bundles you will need to make another separate order.

We would also advise that you get familiar with our firm but fair policy on returns and refunds.

More than anything, we want to be piggin' happy with your purchase. If you need anything contact us.

For our general T&Cs click here.
Storage
PORKY SNACKS: If kept air tight, our crackling should be suitably awesome up until it's best before date, which should typically be around 16 weeks from purchase, sometimes more, sometimes less.

If you dive in regularly, we'd recommend eating it up within 4 weeks - but this shouldn't be too tricky, because well, you're already diving in regularly.

As with any food product, store in a cool, dry place away from bright light and vegetarians (if it's meaty) in order to keep the swines at their best.

BOOZE: Both our beer & cider is best served coooold.

If you have any product related questions, please contact us.
FAQs
Since day one we've made a point of being as open and honest as possible with our customers- calling a spade, a piggin' spade, and all that. That's why we've created this page of FAQ delight in order to give you as much info about our porky venture as you need.

https://www.snafflingpig.co.uk/pages/faqs
Reviews