EPIC PORK CRACKLING ADVENTS & CHRISTMAS GIFT IDEAS
HOW MANY SHOPPING DAYS BEFORE CHRISTMAS?
BEST MEAT & BEER GIFT IDEAS FOR CHRISTMAS 2023

Finding the best Christmas gift for the meat-snack-loving hero in your life can be a daunting task. What do you get for the awkward swine who says they have everything they want already and tells you "not to worry". We've all heard it before, right? And we ain't buying it.
This year, why not trust the Elf Pigs – who work all year round on creating unique Christmas gifts – to inspire you with unusual Christmas gift ideas for her and personalised Christmas meat hampers for him? Well done you, and well done Elf Pigs.
OUR BESTSELLING GIFTS AT CHRISTMAS
SECRET SANTA GIFTS & GIFTS UNDER £10
MEAT SNACK GIFT HAMPER IDEAS
STOCKING FILLER GIFT IDEAS
So, you're feeling rightfully smug that you've chosen from our awesome snacking Christmas gift ideas. Feeling pretty EPIC right now, right?
Christmas morning. Your loved one tears open their carefully selected Christmas gift, plucked from these very web pages, they shower you in high praise and thanks.
But wait. Imagine, if you will, the utter crushing come down while they politely open the accompanying Christmas card. A dog-eared, straight-out-the-back-of-the-kitchen-drawer, traditional glitterfest of a winter scene complete with an unseasonable field mouse in a little red hat. The sheer horror.
Fear not, you gift-buying hero! You can now avoid such a scene with our tastefully designed and zingy pork pun embalzoned cards to accompany our tasty gifts.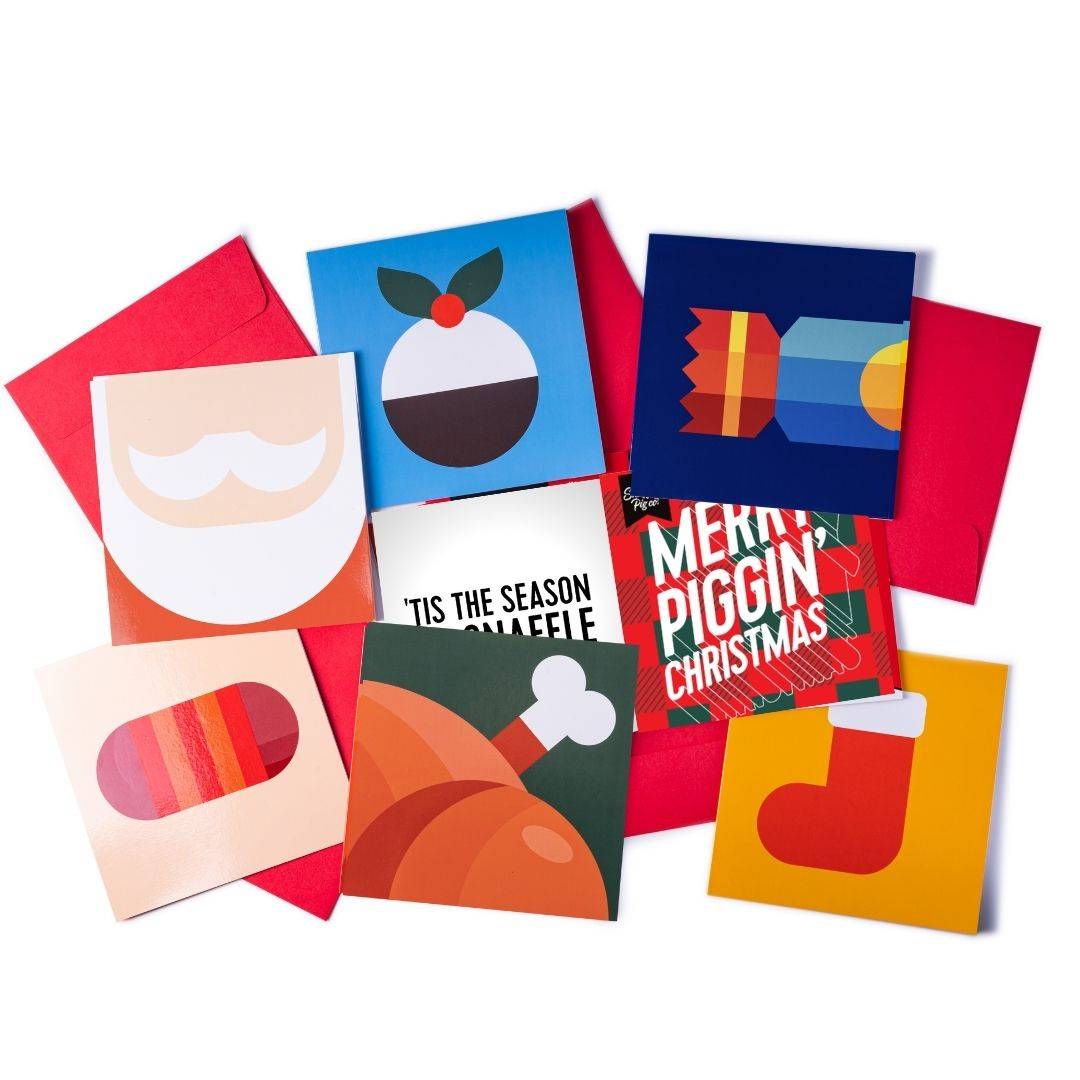 AWESOME SNACK SUBSCRIPTION GIFT IDEAS & ChRISTMAS GIFT CARDS

These are the gifts that keep piggin'giving, all year round!
That's right, the snack-loving swine in your life can now have their porky wares delivered every month, regular as clockwork.

Choose from mystery boxes, almost countless combinations of flavours, mix and match each month. BOSH!
You can pay monthly (cancel any time), or you might prefer to pay annually or 6-monthly for EPIC savings. If you still can't decide, we have electronic gift cards which can take the pressure of choosing off.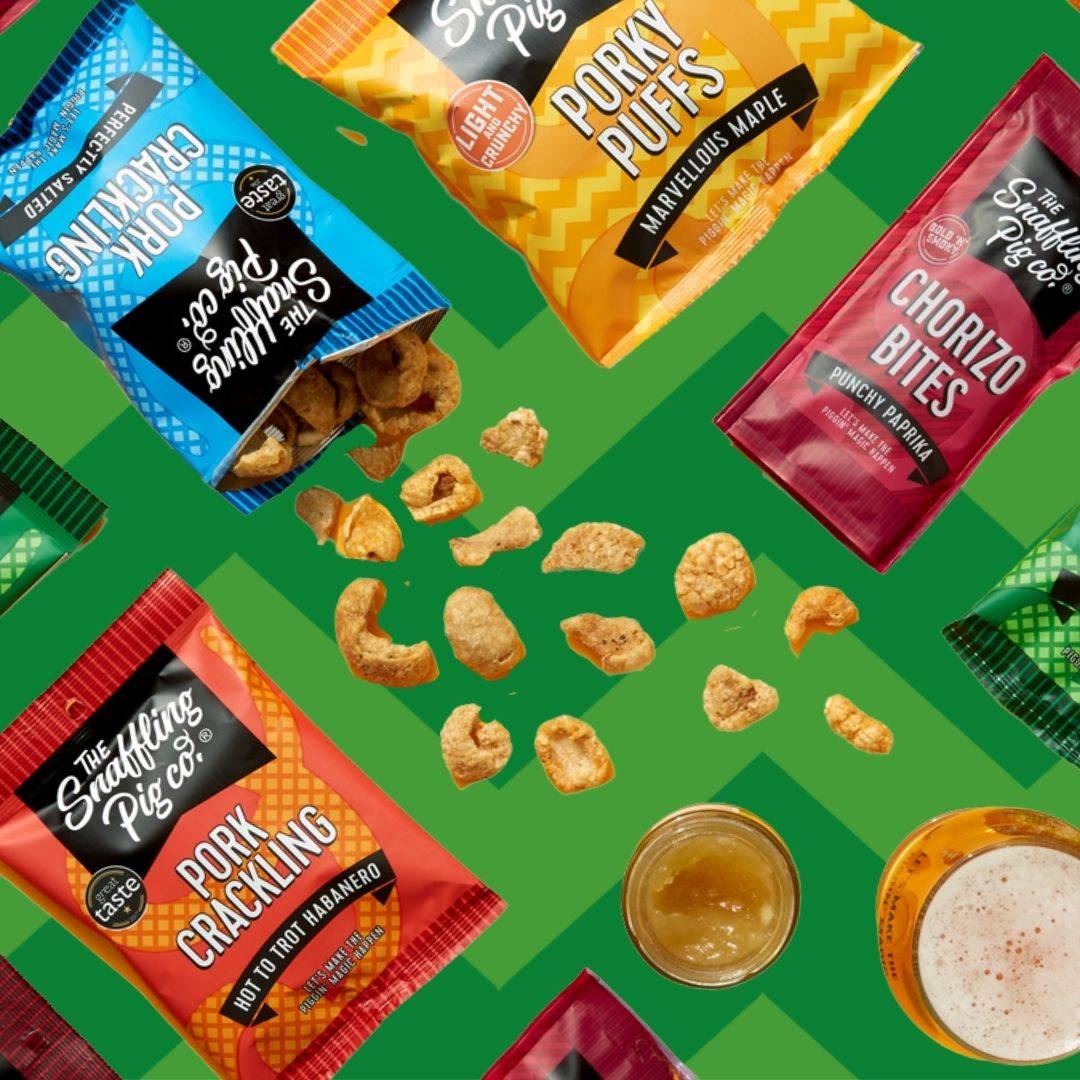 GET STOCKED UP FOR CHRISTMAS SNAFFLING SEASON

Let's face it, it's a busy time of year. Christmas food shopping can be a swine. You can't put it off, because there is nothing worse than welcoming family and friends over, bringing everyone together, only to find you are not able to offer them any porky snacks. WTF?
It happens. It shouldn't. But it does. That's why we've made it mega easy to order a shed load of what you need for this special time of year with our porky bundles of piggin' joy. Trot this way, you host with the MOST.
PORK CRackling ADVENT CALENDAR

7 years ago Snaffling Pig invented the world's first pork crackling advent calendar (he's good like that) and every year since he has produced and sold out of the ultimate advent calendar for savoury-loving-swines. Jog on Choccy!
The world's first and original pork crackling advent calendar!
BIGGER, BETTER, LONGER, FESTIVE-R! - this year's calendar is EXTRA MASSIVE
This year we've made the calendar itself entirely PLASTIC-FREE and fully recyclable! HURRAH!

The

highest quality, hand-cooked and seasoned by Chef Pig (Snaffling Pig's culinary cousin).

24 x 5g packets of daily porky joy! including:
5 Great Taste Award-winners (Perfectly Salted, Low & Slow BBQ, Salt 'N' Vinegar, Marvellous Maple, Black Pepper) PLUS limited edition Pigs in Blankets for festive frills.
PORK CRACKLING & BEER ADVENT CALENDAR

How about the KING OF ADVENTS? A beer and porky combo! The Pork Crackling & Beer Advent Calendar. It's not the most exciting of names, we'll be honest, but we spent the creative budget on the packaging and we ran dry on porky pun names.
4 x 3 British Brewed Snaffling Pig beers: 'Mighty Swine' lager, 'Wild Hog' Helles and 'Twisted Tail' pale ale (330ml each).
12 x 3 Great Taste Award-winning pork crackling bags: Low & Slow BBQ, Marvellous Maple and Perfectly Salted. Four of each flavour (12g each).

One day you get porky snacks, the next a tasty beer, and so on, until the PIG day.

This calendar's MASSIVE. Hefty. A big ol' unit. 46.8cm tall and 27.2cm wide and 12.6cm deep. You won't be putting this on the mantelpiece.
The calendar itself and the beer cans are RECYCLABLE! HURRAH!