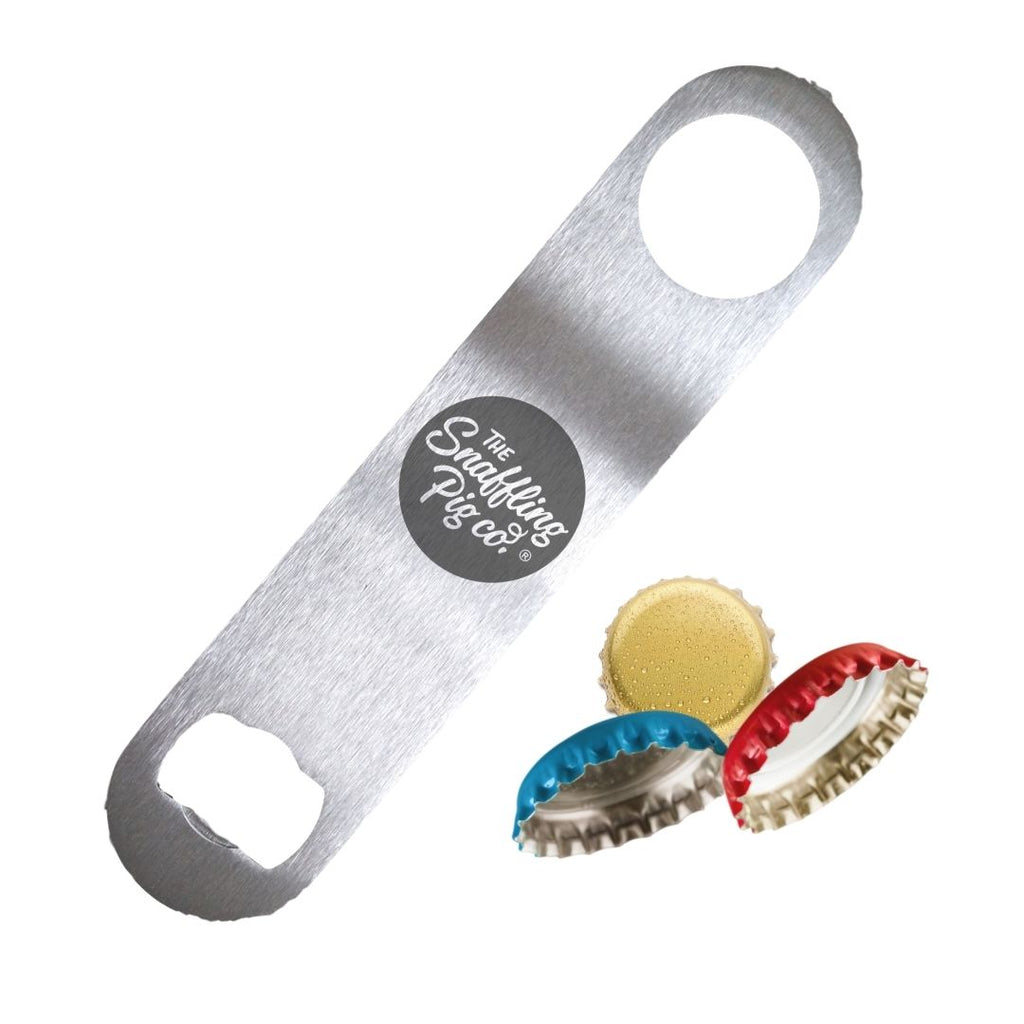 Bottle Opener of Gratification
Merch
Description
Picture the scene. It's Friday night. It's been a loooonng ol' week and you're in need of a refreshing tipple to see in the piggin' weekend.
You've proactively ordered your bottles of Snaffling Pig Blonde Beer and / or Rhubarb Cider. Nicely done.
You've been looking forward to this moment, God knows you've earned it. The chilled bottles have been winking at you from the fridge shelf since Wednesday night, but you have held off, fought off temptation, delayed the thirst-quenching gratification of the 'TCSSSCHH' of the bottle opening and the nectar hitting your lips and partying on your palette until FRIDAY.
But, what's this? You forgot your novelty bottle opener from Tenerife '98 flipped its last lid some weeks ago, leaving you in the very real and unenviable situation of a tippleless start to the weekend.
Don't be THAT swine.  Behold, the Snaffling Pig bottle-opener, 100% stainless steel, branded and ready to get your weekend started.

PIGGIN' IMPORTANT: For information about allergens, ingredients, and nutritional information in our porky wares, please refer to our ingredients page here.
Delivery & Service
UK mainland postage:

£3.99 standard delivery
Free on all orders over £40

The Snaffling Pig's less fun but very organised cousin, The Logistics Pig, dispatches all our items by courier for delivery usually within 1-2 working days (although it can take an extra day or two during peak times of the year). However, rather than keep lots of stock, we cook fresh every day to keep up with you snafflers so delivery can take up to 5 working days.

Your order will be shipped in as few parcels as possible to keep your piggin' shipping costs down, and to reduce the impact on the environment. So if you order multiple bundles and other products in one order, it will most likely come in one parcel. If you require separate parcels for multiple bundles you will need to make another separate order.

We would also advise that you get familiar with our firm but fair policy on returns and refunds.

More than anything, we want to be piggin' happy with your purchase. If you need anything contact us.

For our general T&Cs click here.
Storage
PORKY SNACKS: If kept air tight, our crackling should be suitably awesome up until it's best before date, which should typically be around 16 weeks from purchase, sometimes more, sometimes less.

If you dive in regularly, we'd recommend eating it up within 4 weeks - but this shouldn't be too tricky, because well, you're already diving in regularly.

As with any food product, store in a cool, dry place away from bright light and vegetarians (if it's meaty) in order to keep the swines at their best.

BOOZE: Both our beer & cider is best served coooold.

If you have any product related questions, please contact us.
FAQs
Since day one we've made a point of being as open and honest as possible with our customers- calling a spade, a piggin' spade, and all that. That's why we've created this page of FAQ delight in order to give you as much info about our porky venture as you need.

https://www.snafflingpig.co.uk/pages/faqs
Reviews