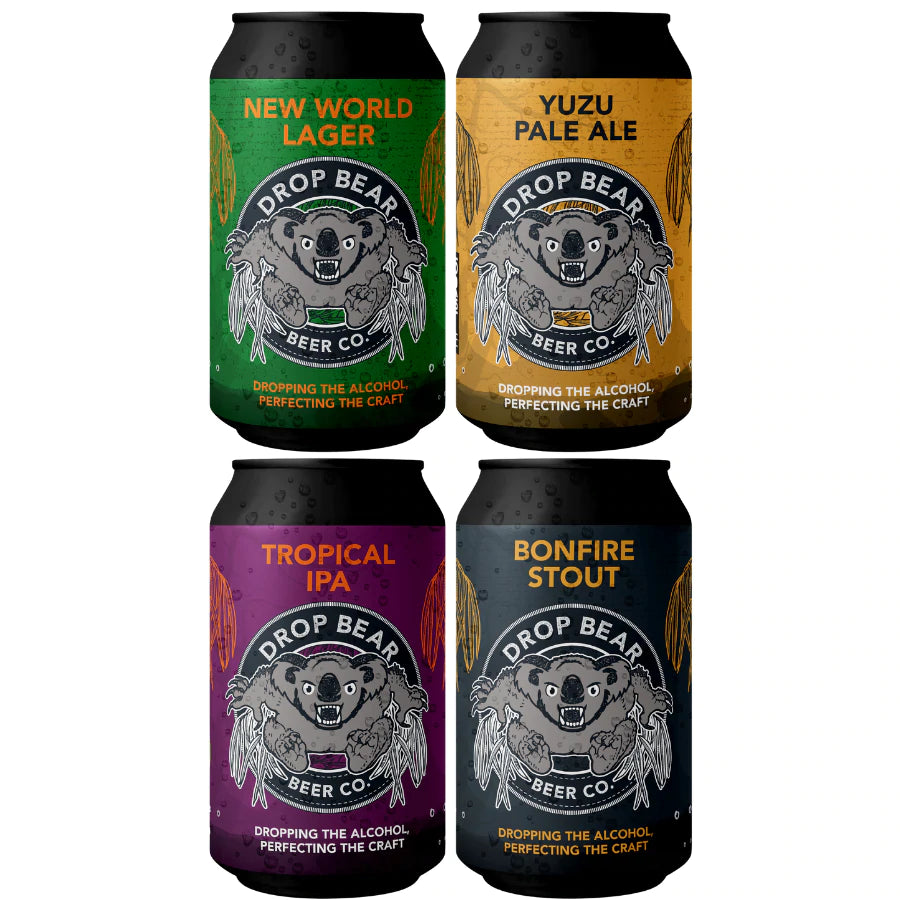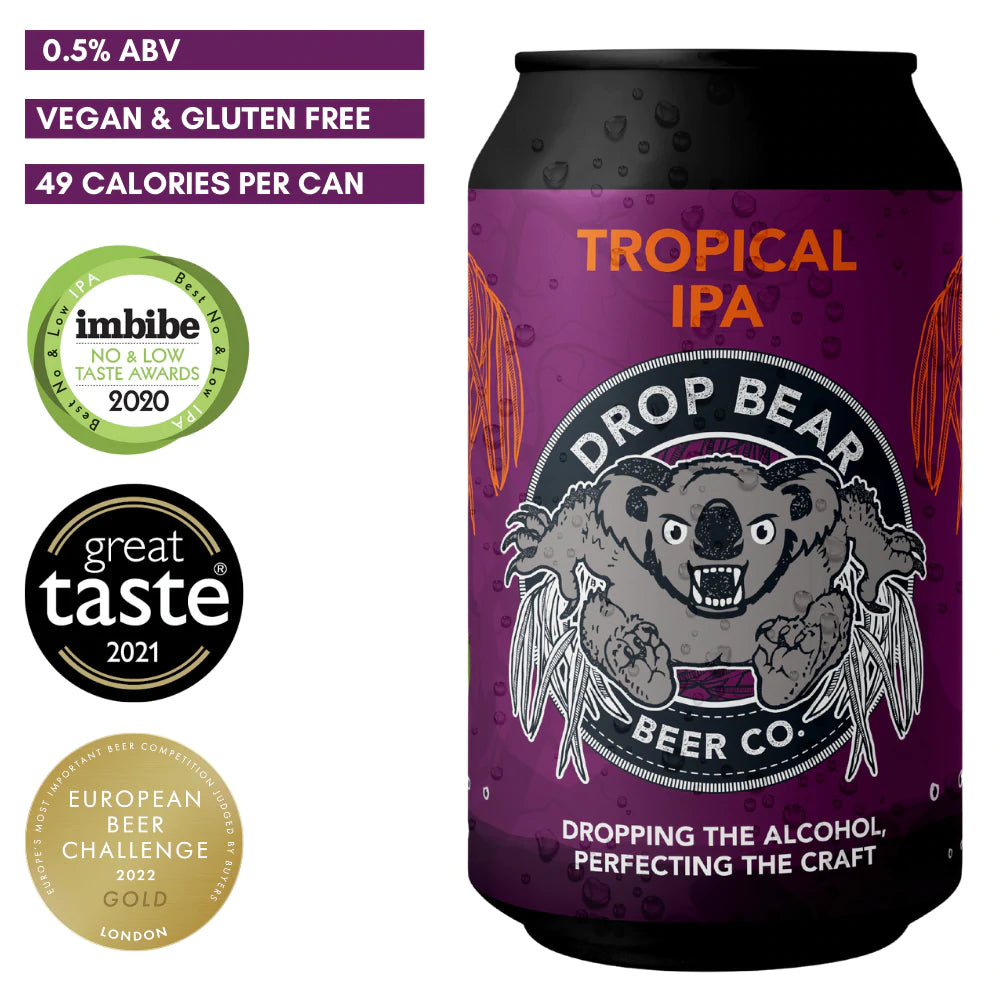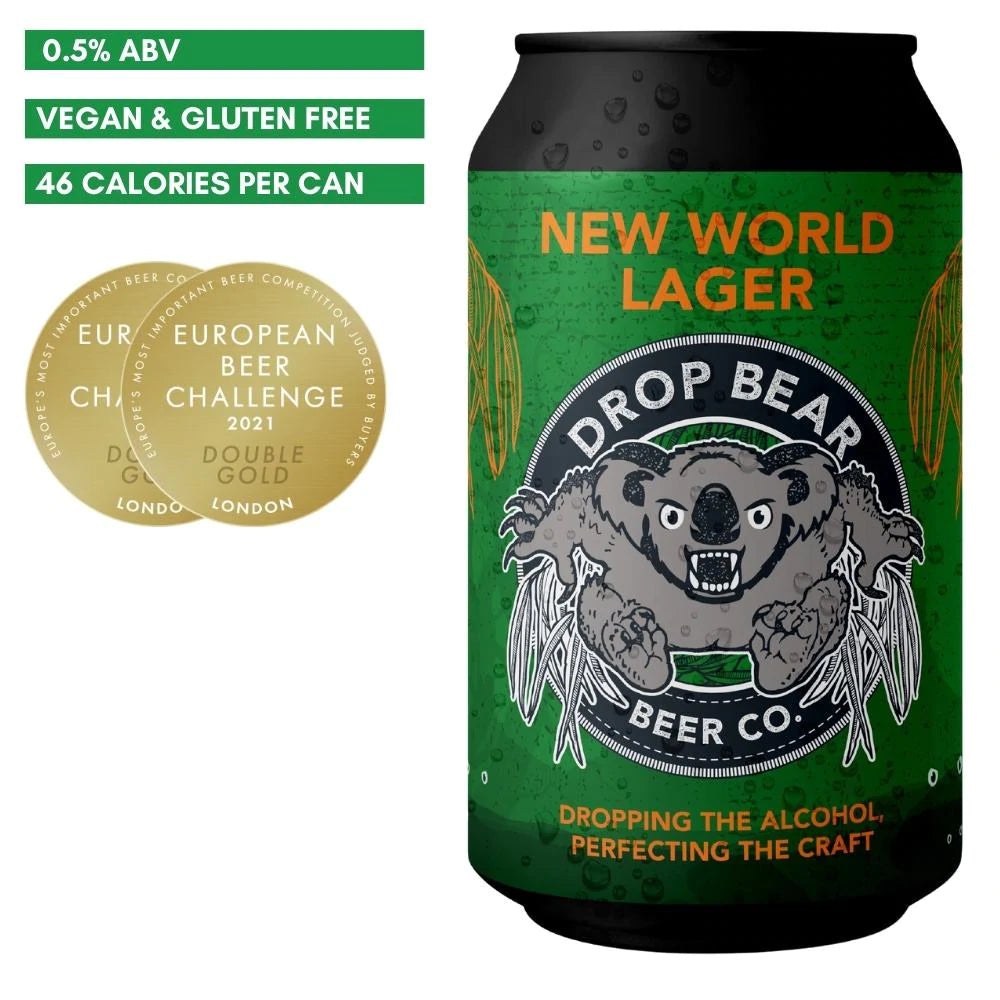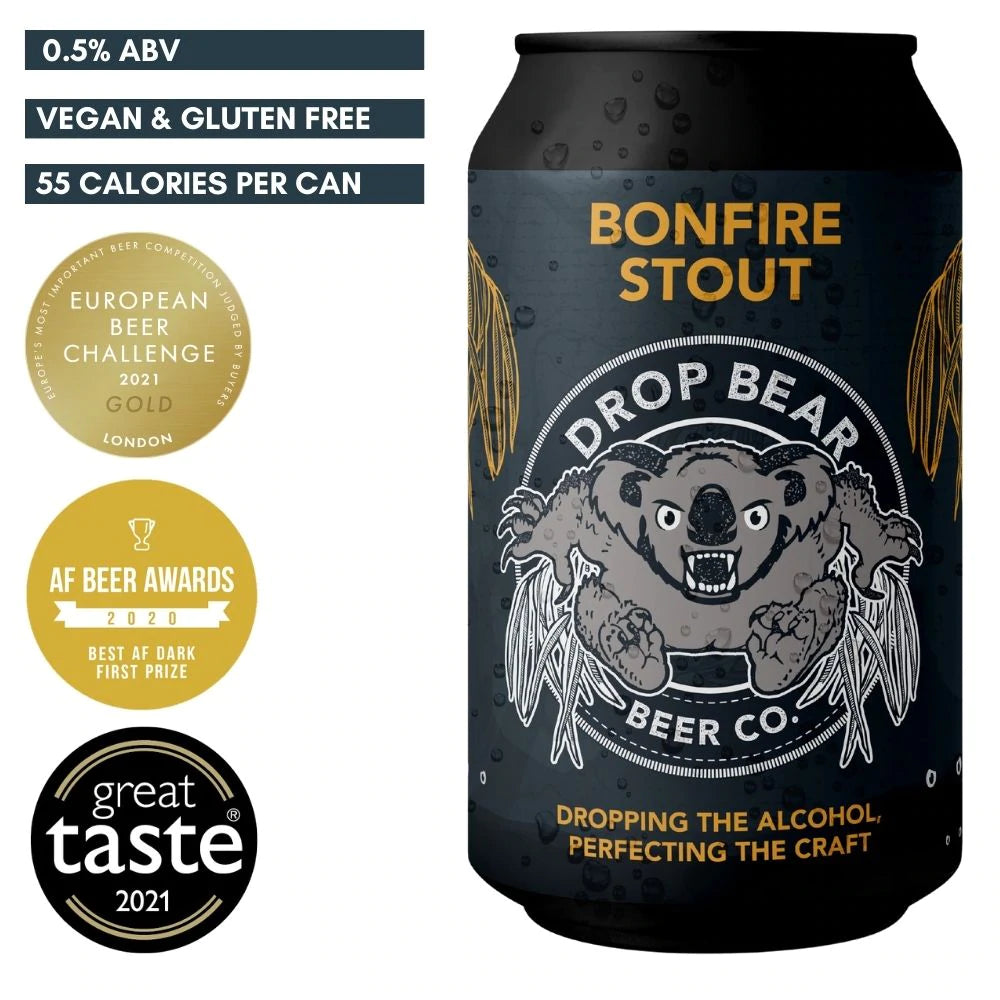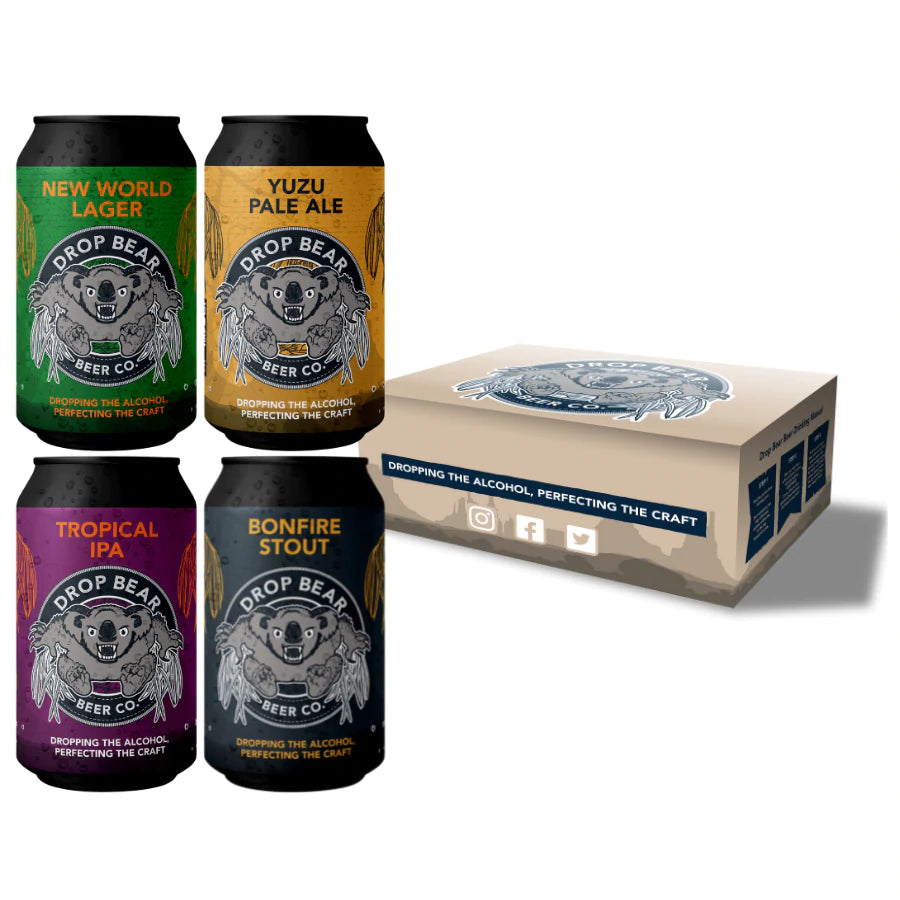 Alcohol Free Beer Mix by Drop Bear Beers
Beer
Description
Want to mix it up a bit? Just can't decide which non-alcoholic beer you want? Our mixed pack includes the entire Drop Bear range, taking the stress of choosing a great non-alcoholic beer out of your hands! All Vegan & Gluten Free.
The 12 pack contains 3 of each beer listed below and the 24 pack contains 6 of each beer listed below:
NEW WORLD LAGER - Drop Bear's first alcohol-free lager is a punchy IPL (India Pale Lager). Notes of honey, biscuit, and toasted malts balance strong hop notes of lemon, lime, and candied mandarin.
ABV:

 

0.5
OG:

 

1020
Malts: Lager Malt, Wheat Malt, Amber Malt
IBU: 16
Style: IPL
Hops: Motueka, Rakau, Wai-iti
Ingredients:

 

Water, Malted Barley, Wheat, Hops, Yeast
YUZU PALE ALE - Dry hopped with refreshing floral and grapefruit hops, a splash of yuzu bursts through the toffee base to create a unique and sessionable non-alcoholic beer.
ABV:

 

0.4
OG:

 

1005
Malts: Pale Ale, Munich, Wheat, Cara Malt
IBU: 33
Style: Pale Ale
Hops: 

Chinook

, Cascade, Centennial

Ingredients: 

Water, Malted Barley, Wheat, Hops, Yeast, Yuzu Extract
TROPICAL IPA - Dry hopped with juicy US hops, tropical hop notes of citrus, passionfruit, and stone fruit are complemented by delicate malt notes of caramel.
| | |
| --- | --- |
| | ABV: 0.3 |
| | OG: 1005 |
| | Malts: Munich, DRC, Caramalt, Chocolate, Wheat Malt, Flaked Oats |
| | IBU: 46 |
| | Style: IPA |
| | Hops: Ekuanot, El Dorado, Simcoe, Citra |
| | Ingredients: Water, Malted Barley, Wheat, Hops, Yeast |
BONFIRE STOUT - Inspired by the traditional Irish stout with crafty notes of hoppy stout and rauchbier, this dark beer provides a dry yet refreshing and lightly hopped finish. Complex notes of roasted coffee and smoked malt balance flavours of dark chocolate and caramel.
ABV:

 

0.5
OG:

 

1020
Malts:

 

DRC, Chocolate, Smoked Malt, Caramalt, Roasted Barley, Wheat Malt
IBU:

 

27
Style:

 

Stout
Hops: 

Chinook

Ingredients:

 

Water, Malted Barley, Wheat, Hops, Yeast
PIGGIN' IMPORTANT: For information about allergens, ingredients, and nutritional information in our porky wares, please refer to our ingredients page here.
Delivery & Service
UK mainland postage:

£3.99 standard delivery
Free on all orders over £40

The Snaffling Pig's less fun but very organised cousin, The Logistics Pig, dispatches all our items by courier for delivery usually within 1-2 working days (although it can take an extra day or two during peak times of the year). However, rather than keep lots of stock, we cook fresh every day to keep up with you snafflers so delivery can take up to 5 working days.

Your order will be shipped in as few parcels as possible to keep your piggin' shipping costs down, and to reduce the impact on the environment. So if you order multiple bundles and other products in one order, it will most likely come in one parcel. If you require separate parcels for multiple bundles you will need to make another separate order.

We would also advise that you get familiar with our firm but fair policy on returns and refunds.

More than anything, we want to be piggin' happy with your purchase. If you need anything contact us.

For our general T&Cs click here.
Storage
PORKY SNACKS: If kept air tight, our crackling should be suitably awesome up until it's best before date, which should typically be around 16 weeks from purchase, sometimes more, sometimes less.

If you dive in regularly, we'd recommend eating it up within 4 weeks - but this shouldn't be too tricky, because well, you're already diving in regularly.

As with any food product, store in a cool, dry place away from bright light and vegetarians (if it's meaty) in order to keep the swines at their best.

BOOZE: Both our beer & cider is best served coooold.

If you have any product related questions, please contact us.
FAQs
Since day one we've made a point of being as open and honest as possible with our customers- calling a spade, a piggin' spade, and all that. That's why we've created this page of FAQ delight in order to give you as much info about our porky venture as you need.

https://www.snafflingpig.co.uk/pages/faqs
Reviews